Meet Judge!
Judge first came to the Animal Therapy Center in December of 2017. Judge had developed a left pelvic limb lameness after he slipped on some fire debris two months prior. The lameness was monitored initially but as the lameness worsened he was subsequently diagnosed with a CCL injury (Cranial Cruciate Ligament) and underwent a TPLO repair (Tibial Plateau Leveling Osteotomy) on November 29, 2017 with Dr. Salvador Galindo.
While Judge was doing well after his surgery, his primary veterinarian and surgeon recommended that Judge go to formal rehabilitation to rebuild muscle mass and increase weight bearing.
Judge was a superstar in therapy and after 12 weeks of therapy Judge was officially cleared for full active duty. Judge's handler Chief Laubach of the Allentown Fire Department was so pleased with his recovery but also his increased strength, that he decided he wanted to keep Judge in therapy long term. He noted that Judge was stronger than before the injury and that he was even better on the job.
The Animal Therapy Center was so thrilled that we were able to help this Hero Dog, that we decided to sponsor his therapy through 2018! We love working with him and love that we are able to help the community through the excellent service of Judge. See below for Judge's therapy journey and full biography.
Judge's Therapy Journey & Biography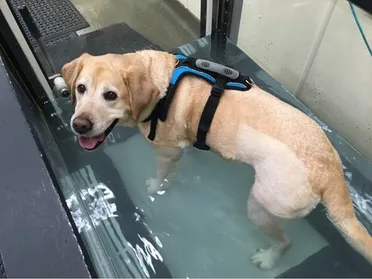 K-9 Judge is a 8 year old yellow Labrador retriever originally from Michigan before entering the Accelerant detection program.
State Farm Insurance sponsored the Arson Dog program and provided the K-9, training, room and board during training, travel expenses and initial certification through the Maine Criminal Justice Academy. The estimated cost of the scholarship provided by State Farm Insurance was 20 to 25 thousand dollars
Chief Laubach is the handler and went through the 5 weeks of training with Judge in Alfred, ME. The training was completed by Maine Specialty K-9 and the Maine State Police.
K-9 Judge is trained to sniff out gasoline and other liquid accelerants (61) that are used by arsonists who intentionally set fires. Through his keen sense of smell Judge is able to pinpoint where the fire might have started. By using K-9's to more closely examine the fire scene, the better quality samples investigators now have.
K-9 Judge is the first dog of this type ever for the Allentown Fire Department and the first "State Farm Arson Dog" in Pennsylvania or New Jersey in over 10 years. In the United States and Canada combined there are less than 200 Accelerant Detection Dogs in service at this time.

The coverage area for Judge will be the entire Lehigh Valley including Lehigh County, Northampton County, Allentown, Bethlehem, and Easton. Because of his unique abilities he can be specially called to assist any investigation agency in Pennsylvania or New Jersey.
Laubach and K-9 Judge have already assisted with over 200 investigations in Allentown, and the surrounding communities. He has assisted in the convictions of over 14 arsonists within the past years that he has been in service. K-9 Judge also serves as a Fire Safety and Educational Ambassador for the entire Lehigh Valley Community. They have done programs at numerous facilities already.