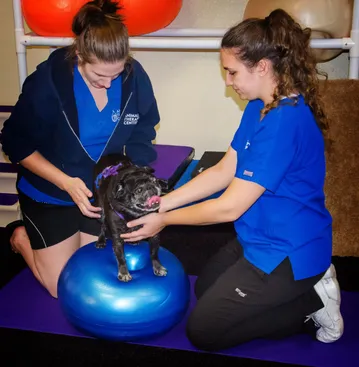 What is the purpose of therapeutic land exercises for pets undergoing therapy?
The purpose of therapeutic land exercises are to strengthen specific muscle groups, encourage weight bearing, and increase range of motion. Exercise is the mainstay of rehabilitation for most conditions, and is also vital for conditioning healthy pets.

What should I expect in my pet's therapeutic land sessions?
We develop an exercise program specific to each patient's needs and goals. We'll have your dog negotiating cavaletti rails, weaving around cones, and climbing stairs and ramps. We develop essential core strength and balance via wobbly boards, physio-balls and trick training.
We use custom made and standard physical therapy equipment and also teach clients how to improvise at home. Each session, the exercise program is revisited and adjusted as needed. Each session a trained therapy staff member works one on one with your pet, to ensure that your pet is receiving the best possible care. We work with patients of all sizes, breeds and temperament.




I take my dog for a walk, is this enough exercise?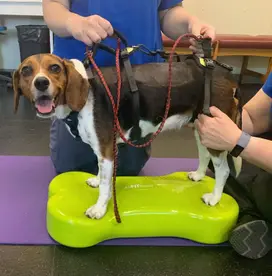 While walking your dog is certainly a beneficial exercise for your pet, your pet will also benefit from therapeutic land-work where our specially trained staff is here to create exercises that tailor to your pet's individual therapy goals. Our various equipment can be used to challenge your dog in ways that they may not be able to achieve on a walk. We also use many exercises to work specific muscle groups.
There's a lot of equipment used in the gym, how do you know what equipment my dog will need/benefit from?
Our therapists are specially trained to utilize certain equipment for each dog's specific needs. Each session will build upon the last so that we can incorporate new equipment to safely challenge your dog.